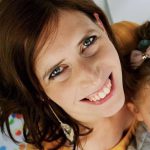 I live in Roermond, in the south of the Netherlands, with my boyfriend and our 2 young kids.
As long as I can remember I have been drawing. I was completely absorbed in it, the movement, the colors of the pencils, the smell of the paper. I come from an artist family, so the choice for art academy was quite obvious. Yet during my education I chose a different path, namely fashion and textiles, even though my drawing teacher wanted me to choose the drawing direction. After the academy I started working as a designer in the textile industry. There I was mainly involved with color design. Drawing completely disappeared into the background, but when I lost my permanent job during the corona crisis, I got time and space again to pick up my old love. I experienced how happy that made me, and decided to take the plunge and start working as an illustrator, specializing in picture books.
I have always had a great love for picture books. When I had children of my own, I finally had a legitimate reason to buy them. I first bought them mainly because of the beautiful illustrations, but when I started reading them to my children, I came to understand the importance of a good story, the interplay of the illustrations with the text and how it can reinforce each other. This symbiosis is unique to picture books and it is why this genre appeals to me so much.
My dream is to write and illustrate picture books myself, which can enrich the lives of a new generation of children, and which they in turn will read to their own children.
I prefer to work traditionally, with watercolor. I scan these paintings in order to digitally edit and optimize them. Characteristic of my work is a fairly realistic style combined with more painterly backgrounds. Something that watercolor lends itself perfectly to. I also like to use different perspectives, because this gives extra dynamism to an image.
In July 2022 I won the international illustration competition Picture this! from publisher Lemniscaat.
1998 – 2002 Studied fashion and textiles at the art academy in Maastricht
2002 – 2020 Employed as a designer at the Schellens weaving mill and wall covering manufacturer Vescom. I made patterns, developed fabrics and did color development.
2021  Mentored by Ellen Vesters from Venster academy.
July 2022 Winner of the international illustration competition Picture This! from publisher Lemniscaat.